Overview
Edit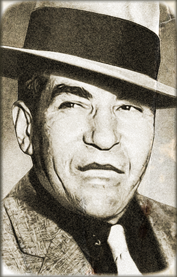 Charlie Luciano is a criminal giant. His influence stretches across the United States and covers almost every form of criminal enterprise possible.
He has a major operation running in New York, which is hindered by the local Mustache Petes who are terrorising some of his business associates. Meanwhile, in Atlantic City, he is busy improving the security of his businesses. As a result, he regularly needs firearms.
He also runs the biggest bootlegging network in the US, and offers large quantities of cheap beer.
He butts heads with the Boss during the Damsel in Distress DLC, as Mr. Cunningham had hired him to find his daughter, Lady Cunningham, as Harry refuses to hand her over. He proves to be a dangerous threat and his goons can easily find her within a day if you don't work quickly to stop him. During that mission, neither he nor Lady Cunningham are available on the Jobs screen.
Sells:

20 for $160 ($8 per barrel)
30 for $240 ($8 per barrel)
40 for $320 ($8 per barrel)
50 for $375 ($7.5 per barrel)
60 for $450 ($7.5 per barrel)
Buys:

4 for $200 ($50 per weapon)
8 for $400 ($50 per weapon)
10 for $500 ($50 per weapon)
12 for $600 ($50 per weapon)
14 for $700 ($50 per weapon)
30 for $1,500 ($50 per weapon)
Needs clean money:

$$500 for $1,200 (240% effectivity)
$$750 for $2,000 (267% effectivity)
$$1,000 for $2,900 (290% effectivity)
$$1,250 for $3,900 (321% effectivity)

Charlie likes doing business, so much so that he'll often want to do more and won't take "no" for an answer! This makes his beer sales a somewhat risky prospect if you're low on cash...
Of course, I'll buy; you pay for a small additional quantity of beer

10 beer for $80 ($8 per barrel)
20 beer for $160 ($8 per barrel)
30 beer for $225 ($7.5 per barrel)

No, thanks (or unable to pay for more); he gives one of your henchmen a persistent wound
Charlie is based on the real life gangster Charles "Lucky" Luciano.