Overview
Edit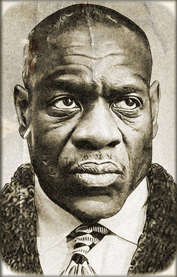 Samuel Johnson had a hard time building his business; he had to hurt lots of people. With guns. To help other gangsters avoid going through the same struggle, he offers loans – at extortionate interest rates. It's advisable to pay him back on time otherwise you will be one of the people he hurts.
On very rare occasions he takes beer (and bust kneecaps) in lieu of payment from a debtor...
Sells:

13 for $100 ($7.69 per barrel)
17 for $130 ($7.65 per barrel)
24 for $180 ($7.5 per barrel)
Samuel doesn't like to use the same gun twice when 'hurting' his debtors, and he must have a lot of debtors because he's often got used firearms to sell to you...
Sells:

2 for $75 ($37.5 per firearm)
4 for $150 ($37.5 per firearm)
7 for $260 ($37.14 per firearm)
23 for $720 ($31.3 per firearm)
Offers loans:

$250; repay $400 (10 payments of $40)
$500; repay $750 (10 payments of $75)
$1,000; repay $1,500 (10 payments of $150)
$2,000; repay $3,000 (20 payments of $150)
$3,000; repay $4,500 (20 payments of $225)
$5,000; repay $7,000 (20 payments of $350)